5 things we liked in August
Publié le samedi, 6 sept. 2014 par Stringedwood Musika Elkartea
Coming soon: a new book about NICK DRAKE
'Remembered for a while' will be the title of this new book, which has been edited and compiled by Gabrielle Drake and Cally Calamon. There's already a very good biography of Nick Drake on the market, which was written by Patrick Humphries; however, this new book looks like it will be something different and particularly special. It has lots of previously unseen material - like handwritten lyrics, a musical guide to the songs, interviews, photos, information about his concerts and articles about his how his influence carries on today. It's possible to pre-order the book at the website www.rememberedforawhile.com/ .
THE DANCING YEARS on The Mahogany Sessions
On the 22nd August, The Mahogany Sessions uploaded a new video to Youtube, showing 'The Dancing Years' in action. 'We danced last night' is particularly worth listening to.
JAVI RUIZ with Jesús Zambrano and others in Altxerri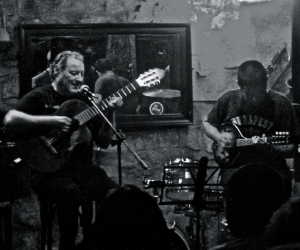 Javi Ruiz is the 'guitarman' who has taken up a residency in Altxerri, and performs there every Tuesday. He's an incredibly gifted musician who is well worth seeing live; he really seems to be a musician 'through and through'. On the 26th of August, the Venezuelan Mandolinist Jesús Zambrano (who a while back used to play with Luke Armstrong too) returned to Donosti and teamed up with Javi again for an unforgettable evening of Latin music.
JOE WILKES' 'The High Life' on Acordes Urbanos
At the end of August we saw a video, which had been shared by Acordes Urbanos, of an up-and-coming musician on the London scene: Joe Wilkes. Wilkes has an excellent fingerpicking technique, a powerful, hoarse voice and composes really well. He'll be back in a few months for his Spanish tour and will be stopping off in Valladolid again for a concert and another session with the Acordes Urbanos team. Don't miss it!
DOUGIE MACLEAN is named 'Folk artist of the month' on folkradio.co.uk
Dougie Maclean is a veteran Scottish singer-songwriter and a folk legend. His music ranges from intimate acoustic ballads, with just Dougie and his guitar, to lively aborginal-Scottish folk fusion songs with his band (bagpipes, percussion, didgeridoo, guitar, violins etc). He really is a unique talent and his live performances are second to none. It was good to see him get this well-deserved award.